Advanced Technology in Skokie, IL
3Shape Trios MOVE Scanner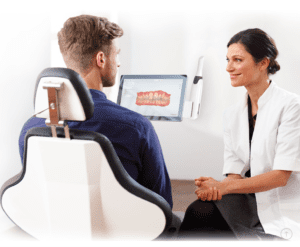 3Shape Trios MOVE is an intraoral scanning setup that ensures placement is always spot on. This ergonomical scanner allows us to easily adjust the screen for digital scans, images, and simulations of expected treatment results for our patients. This helps you to fully understand your treatment plan and picture your final results. 
IMS
We use Hu-Friedy's Instrument Management System (IMS) as an integrated approach to keeping our dental instruments organized and intact from cleaning to chairside. With the IMS, we are able to eliminate instrument scrubbing and sorting, protect against breakage, and create an enhanced infection prevention and safety environment for our team and patients. Instruments are only handled during procedures, eliminating any unnecessary contact that could prevent sterilization. Additionally, in the cleaning process, instruments are evenly spaced, allowing for thorough contact with detergents, proper drainage and drying, and preventing overloading of sterilizers.
CBCT
We are thrilled to offer Cone Beam Computed Tomography (CBCT) scanning at Dental Matters. This 3D scan gives us a comprehensive picture of your dental health, which allows for clear and confident diagnoses. By using the CBCT data, we can create your personalized care plan and explore all possible treatment options for your specific dental needs.
CBCT scans can function in place of a standard panoramic x-ray, and offers the same low-level radiation dose as any other digital x-ray, but the extra information we receive from a full 3D scan is invaluable. 
Sedation Dentistry
We understand that going to the dentist can be a stressful experience for some patients, and we want to make Dental Matters as comfortable of an environment as possible. That's why we are proud to offer nitrous sedation at our office for any patients with dental anxiety or more involved procedures. Nitrous oxide, also known as "laughing gas," can help you relax in the dental chair. We control the exact amount of sedation you receive, so you feel at ease but don't endure the drowsiness effects of complete sedation.
Laser Dentistry
At Dental Matters, we are thrilled to offer laser dentistry for a number of different treatments. Hard tissue procedures can include cavity and tooth sensitivity treatment, while soft tissue procedures vary from gum shaping, to crown lengthening, to frenectomy treatment. Lasers can also be utilized to treat obstructive sleep apnea, TMJ/TMD, and even cold sores. This technological breakthrough often leads to quicker healing times, more precise treatment, and less chance for infection after the procedure is complete. 
Microscope Enhanced Dentistry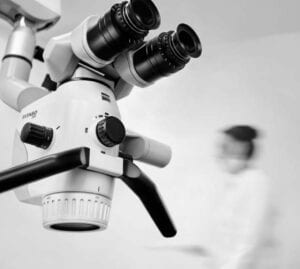 Microscope Enhanced Dentistry is a new skill level in dental care that has been evolving over the past 25 years. At first it was Endodontists (root canal specialists) who began using the increased magnification to locate small and hidden root canals improving their treatment success. It wasn't long before an elite group of innovative dentists began using the microscope to perform all procedures in dentistry to achieve improved clinical outcomes.
The use of the dental operating microscope is changing our techniques for the better and dentistry will only improve as the use of this essential tool becomes more commonplace in all dental offices.
Dr. Mazher Syed Among the 1% of Dentists Offering Microscopic Dentistry
Great dentists use the latest technology to enhance patient health while also educating patients. This is why our team at Dental Matters offers microscopic dentistry, a unique approach to dental care that provides a number of benefits over the traditional dental techniques of the past. Dr. Syed is currently one of the few dentists to offer microscopic dentistry in the greater Chicago area. In fact, Dr. Syed is among the rare 1% of dental health professionals in the world who use microscopes to enhance patient experience.
What Is Microscopic Dentistry?

Microscopic dentistry incorporates the use of special microscopes in general, cosmetic, and restorative treatments. These microscopes provide detailed and close-up images of the patient's mouth. Thanks to the use of microscopes during dental care, Dr. Syed can examine the teeth and gums with up to 20 times the magnification of the naked eye. This means that hairline fractures and other hard-to-spot flaws will be easier to identify and treat before they become more severe dental care problems.
Microscopes Aid with General, Cosmetic, and Restorative Dental Care
For general dental care needs, Dr. Syed will take detailed video of the inside of the patient's mouth. This video (generally 10 to 15 minutes long) will then be shown to the patient to point out problematic areas and discuss various dental health concerns and future treatment options. The dental microscope can also be used when performing cosmetic dentistry and restorative dentistry treatments, making in-depth procedures safer and more accurate and enhancing the quality of the results in the process.
Improving Patient Experience and Understanding
The videos taken with the microscope provide patients with a unique opportunity to see problems such as tooth decay and tooth damage up close. The dramatic images captured allow patients to really get a visual grasp on what Dr. Syed needs to do to address various dental health concerns.